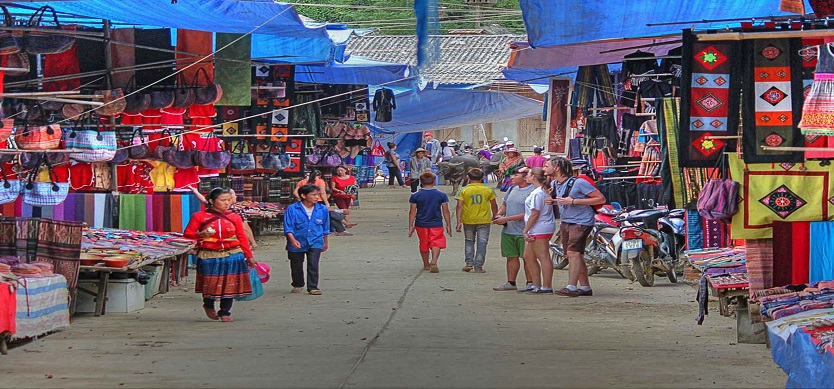 When you travel to Sapa, one thing that you shouldn't miss is visiting local markets of ethnic minorities. Especially, Sapa markets are held almost days in the week. Some of the most rewarding and memorable moments you will have during your time in Vietnam will occur while visiting local ethnic markets. Following here is the list that Sapa Trekking Homestay made and chosen 4 most special markets in Sapa. Let's take the market Sapa easy tour with us!
1. Saturday Can Cau Market or Sunday Bac Ha Market?
Can Cau is held on every Saturday of the week. Just 45 minutes drive from Bac Ha and under 3 hours from Lao Cai, Can Cau market is located at Can Cau commune, Simacai District, Lao Cai province. The market lies on the hill side spilling 153-Road which is the only red soil road connecting borderland Simacai to Bac Ha town.
Because of the location, Can Cau welcomes mainly Hoa (Chinese) Hmong and Giay people but actually runs under the principal business of Dao people. The market starts early (around 7.30am) and closes in the early afternoon so you can make an early start to get the most out of the experience. In the fair, people bring their products to exchange or sell such as cattle, horses, fabrics, vegetable, herbs, spices... Therefore, sorts of product are divided into separate pavilions so visitors can find out easily.
Sunday is the meeting day of Bac Ha. Generally, both markets, Can Cau and Bac Ha are quite similar but Bac Ha has more products than Can Cau. Despite this, the atmosphere in this area is always bustling The locals extremely love animals and always would like to choose good cattle breeds for their demands. Buyers and sellers scatter along the road to deal each other.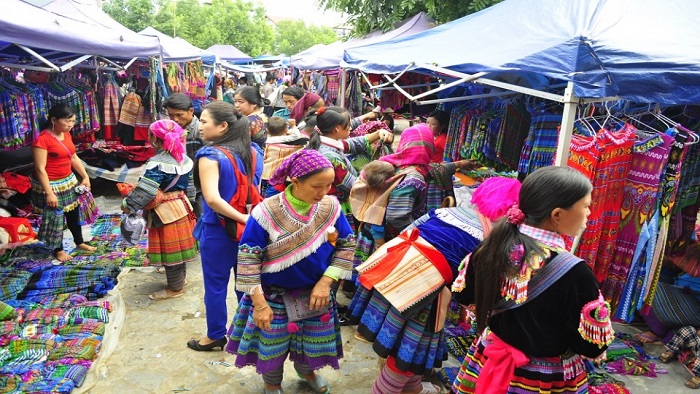 A corner of Bac Ha Market
Not only a place for trading, both market reflects everyday living in mountain region. All activities, relations, and cultures are showed clearly. After trading, people here talk, laugh or make friends; hence most people here knew each other already. They usually gather together as many groups, sit down in some small restaurants and talk about their own stories such as their children, their business, their husband or wife, etc. All creates bustling atmosphere among imposing nature.
2. Tuesday Market - Coc Ly
Besides Can Cau and Bac Ha, Coc Ly market is also located at Coc Ly Commune, Bac Ha district. In fact, the market is named by the people from surrounding areas who often meet here on every Tuesday. Gradually, it became Coc Ly market nowadays. According to local language, Coc Ly means "Foot of a plum tree", the beauty of market is not only of exchanging of goods but also meeting each other, singing, talking & loving.
Not lying on the road as Can Cau, Coc Ly is nearby Chay River, so visitors can take the short drive after visiting to see the landscape of corn and vegetable fields, beautiful villages, impressive waterfalls, gorges and caves as you journey downriver.
Like many markets in Sapa, Coc Ly market divided some areas, the first area for selling and buying: fresh vegetables, mushrooms, honeybee, rice wine, rice, family tools, silks, brocade & wearing. The second part of market is for water buffalos, pigs, chickens, dogs, horses… The last part is for eating and drinking, the stores with special foods of locals. All market is always very busy exciting by talking, bargaining and smiling.
Saying about "special foods", one dish that you can see much in every Sapa markets. It is Thang Co (hourse stew) - a traditional dish made from soups and mainly horse meat which may be on top deserve-to-try list of yours.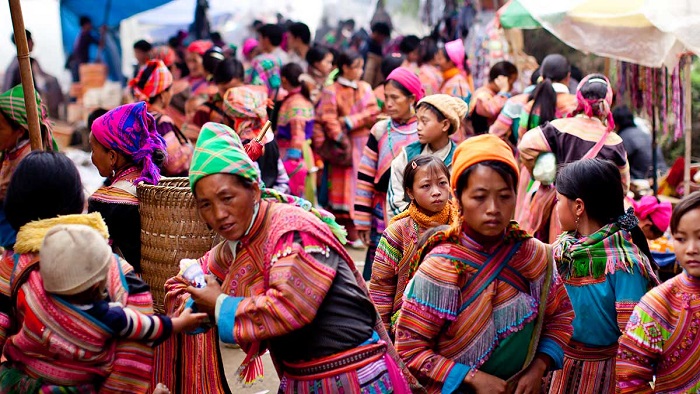 Coc Ly market
When the tourism of Sapa has developed, the market has become more famous and attracts more visitors. Therefore, Coc Ly is not the market for Coc Ly people anymore but for Hmong, Dao, Tay and Nung.
3. Love Market
Before you get used to the busy and bustle market, Sa Pa's love market has been an unique and valuable aspect in the culture of the Mong and Dao ethnic groups for a long time. Due to the distance between the villages, the market meets once a week on Sunday.
On the Saturday night, guys and girls from all villages come to Lao Cai to meet one another. They talk, sing and play different games according to their ethnic groups' tradition. After the night, many couples become intimate and promise to see each other again on the following morning. Many of them become husbands and wives in the spring. That is why the poets in Lao Cai called the market Sapa's Love Market.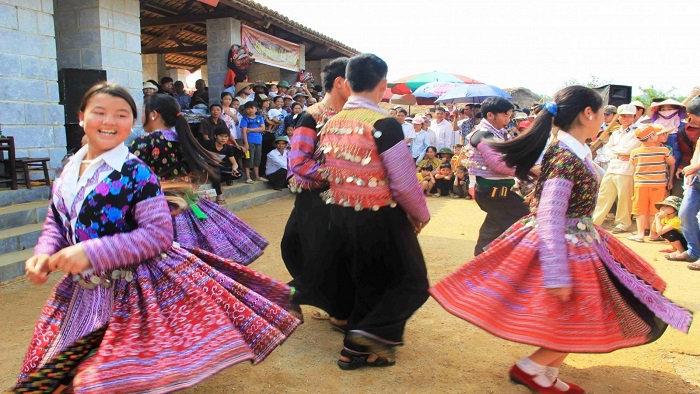 Sapa girls and boys enjoying the games
There is an interesting paradox in the name Love Market. Market is for trading: buying and selling. But no one there buys love or sells it. So why do they call it Love Market? Ironically, lovers take advantages of the market to see each other. Therefore, in a nutshell, Love Market is the place where people date and express their affection. However, it is also the place where cultural activities of people in the highland occur.
Since Saturday afternoon, many girls show up in colorful costumes and silver ornaments. The little bells on their outfits add to the festive atmosphere of the city. They look for the guys dressing in traditional clothes of the same colors who hold in their hand small radio blaring cheerful songs. People stand in groups, singing and dancing their traditional dances until the night comes.
The most popular Love Market in Lao Cai is organized in nowhere else but Sa Pa, where it is gaining more and more attention of not only the ethnic people but also the travelers from many places in the world.
4. Bird Market in Muong Khuong Valley
Muong Khuong is a district of Lao Cai province that far from Lao Cai 50km and 90 km from Sapa. This is the biggest of the minority here, gathered many products to sell and trade such as: handicraft, cattle, vegetable, traditional incense and local products… Here, there is special market on every Sunday - Muong Khuong Market. One thing making it appear in this list is its special products.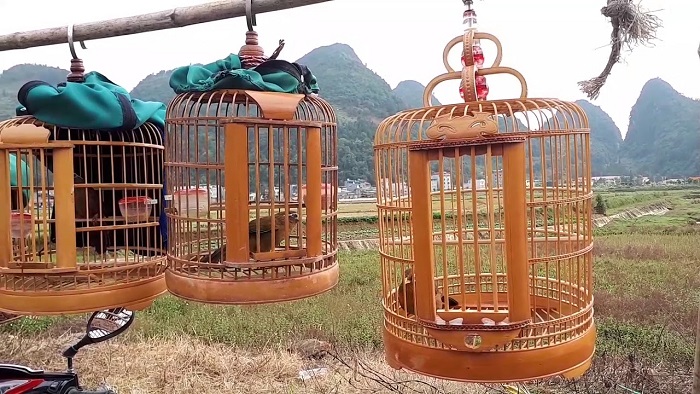 Bird Market in Muong Khuong Valley
At a corner of Muong Khuong market, people gather here to sell and buy various birds but the main kind is nightingale. You will easily catch the sight of group of people spend a lot of time for watching birds, listening to its twitters passionately.
Especially, most families in Muong Khuong have at least a bird cage hanging in front of their house. Therefore, you can see many ethnic men carrying their bird- cage to the market in order to show off.
Sapa is home to numerous ethnic groups with the different cultural identities, so coming to Sapa markets is the best way to explore the the cultural beauty of local people. Above is some famous market in Sapa that you should visit, if you feel it useful for you, don't hesitate to like and share this article. Thank you!