Sapa has a great diversity of ethnic minorities; the total population is 36,000 people that consist mostly of minority groups.
Each ethnic group has a difference in dress, lifestyle, customs, and methods of cultivation together with the distinct cultural identity.
To explore this diversity, you should join Sapa tours. Here is a list of top 5 attractions where to visit in Sapa.
5 most famous tourist attractions in Sapa
Cat Cat Village
Bac Ha Market
Ta Phin Village
Ham Rong Mountain
Fansipan Mountain
1. Cat Cat village
Cat Cat cultural village was formed in the 19th century by the gathering of some families belonging to some ethnic groups living in mountainous areas of northern Vietnam, especially Black H'Mong. They lived next to each other along the mountainside and cultivated surrounding their home. Rice and corn were grown in terraced fields, while traditional handicrafts such as twisting flax and weaving fabric have been well-kept. Through times, Cat Cat Village has transferred to one appealing feature of Sapa's tourism. Sapa Trekking Homestay, a trekking Sapa tour operator is happy to offer you Sapa tours, Sapa train from Hanoi, and the best Sapa homestay tours so that you can visit Cat Cat village.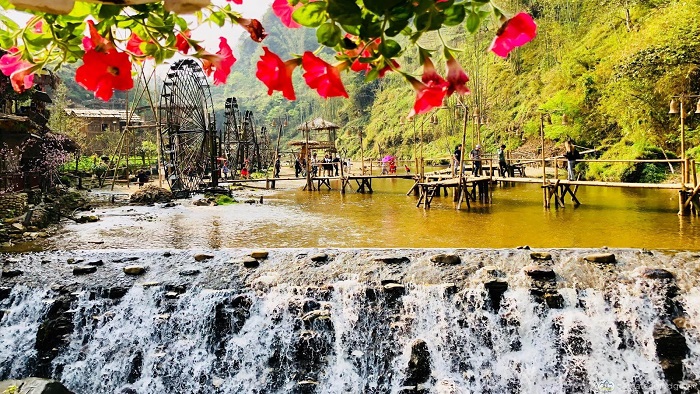 Cat Cat village
Visiting Cat Cat, tourists will be impressed by the peacefully picturesque sceneries. People can easily catch sight of women sitting in front of the loom with colorful pieces of brocade, while children playing around with pets or even livestock. From the plain brocade, then women can carefully dye them with special leaves and embroider beautiful patterns of flower and animal on them. Moreover, many residents of Cat Cat Village are also skillful at manipulating sophisticated gold and silver jewelry.
Cat Cat Village gives tourists a chance to have a glimpse into the daily life of local ethnic people, as well as take part in traditional activities such as weaving fabric. It is also a good opportunity to purchase some traditional souvenirs and handicrafts right from the craftsmen. People can also try some local food selling the way upcoming to the hill.
2. Bac Ha market
Being a minority ethnic people market, Bac Ha market is located in 80 km from Sapa. Bac Ha is famous for its Sunday market which is a trading center and meeting place for couples, friends, and relatives.
Every Sunday, Bac Ha hosts the biggest fair near the mountainous highlands and the Chinese border. It is the largest and most colorful market in the area and attracts throngs of villagers from the surrounding hill tribes. Some walk several hours for the weekly opportunity to trade and barter food, animals, clothes and household goods. 80km from Sapa, Bac Ha Market is not only the place for buying and selling, but also a place for cultural and sentiment exchanging. On the market days, right from the early morning, all paths and mountain roads are full of people and horses pouring to the market. People usually sit in groups around a soup pan ("thang co") eating and chatting.
Many different ethnic groups such as Flower H' mong, Phu La, Black Dao, Tay and Nung minorities gather to buy and sell local products that cannot be found elsewhere. The market was very crowded, local products for sale or barter are carried on horseback. Besides the usual items like pigs, cows, chickens, and ducks, Bac Ha Market sold dogs. As dogs were available as cuts of meat, they were also available live, right next to the live pigs, chickens, and other livestock. There was a brisk trade at the market for everything from hand-embroidered skirts to all manner of 4-legged animals. The "fresh" meat section is not for the faint of heart and might steer more than a few visitors in the direction of strict vegetarianism.
Let's once visit Bac Ha Market with Sapa trekking tours and you will be able to experience a wide range of different colorful ethnic minorities and more interesting things of life in the mountains…
3. Ta Phin Village
Though Sapa has long been familiar with tourists, Ta Phin Village is still a new name to almost everybody. Located about 17km in the west of Sapa, Ta Phin is a village of Red Dao's people possessing a rich culture that has not been damaged by the modern life.
Ta Phin is the nearest village of Red Dao's ethnic group within the area of Sapa district. From Sapa, it will take about 30 minutes to reach here by motorbike. The mountainous road can make it difficult for cars to move, so the best solution is to hire a "xe om", or motorbike taxi, and the experienced driver will take you to the right place at a very reasonable price with many useful advice and tips.
Coming to Ta Phin, you will immediately catch sight of groups of Red Dao's women gathering together, keeping inside their hand's colorful reels of thread and cloths. They sew continuously, even when offering the goods to the customers. Amazingly, most of them can speak quite well, some use Vietnamese less than English. Through times, Ta Phin Village, however, still can remain its special traditions. If you are lucky enough, you can have a chance to participate in a Red Dao's wedding, seeing how carefully they prepare and many complicated customs for this occasion. There are also several local festivals such as "dancing festival", "greeting for the new house", "oath-taking ceremony" that will help you understand more about the simple but happy and amiable life of ethnic people.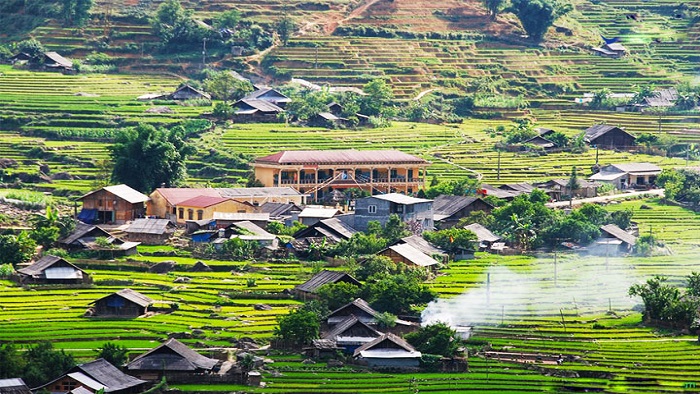 Ta Phin village
4. Ham Rong Mountain
Via Muong Tien to get to Sapa, in vaporous clouds travelers will see a mountain peak rising as dragon-head. It is Ham Rong mountain with 100 ha in area.
The name of Ham Rong was derived from the legend that, in primitive age, there were a couple of dragons which became attached to each other while the deluge was rising high. Walking up, they separated from each other but failed. They were drifted to different places.
As going to Sapa, travelers often climb up Ham Rong mountain to enjoy a cool atmosphere and charming landscapes such as cloud ground and stone garden, the garden of medicinal plants, especially the garden of various orchids and specific houses on stilts of ethnic minorities.
A lot of rocks in the shape of dragon claws and fin appear to our eyes and we will think of being lost in a wonderland. Standing on the peak, you will enjoy particularly interesting landscapes around as much as you wish and throw your view further to make the most of poetic beauty of Sapa town looming in clouds.
5. Fansipan Mountain
Fansipan Mountain is located 9km south-west of Sapa Townlet in the Hoang Lien Mountain Range.
Fansipan is branded "the Roof of Indochina" at the height of 3, 143m; Fansipan Mountain is to be approved as one of the very few eco-tourist spots of Vietnam, with about 2, 024 floral varieties and 327 faunal species.
The topography of Fansipan is varied. Muong Hoa Valley, at the lowest altitude (950-1, 000m), is created by a narrow strip of land at the base on the east side of the mountain.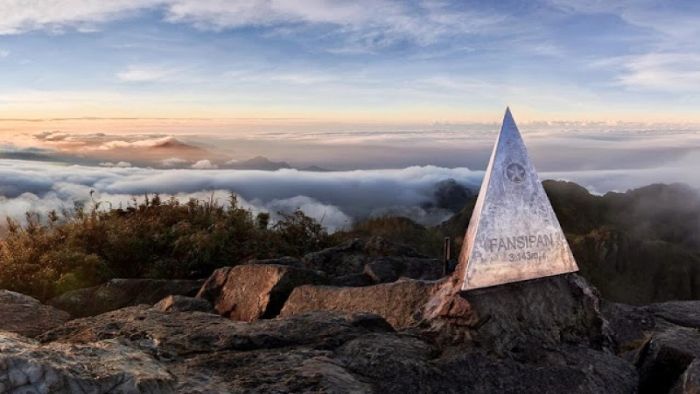 Fansipan mountain
Foreigners like to book Fansipan tours between October and December, as this period is more often than not free from the heavy rains that obstruct the jaunt. But the Vietnamese prefer their tours to the peak of the mountain from February to April, as it is not so cold then. However, the best time for the trek to the mountain is from the end of February to the start of March, when the flowers all flourish and the climbers may behold the best.