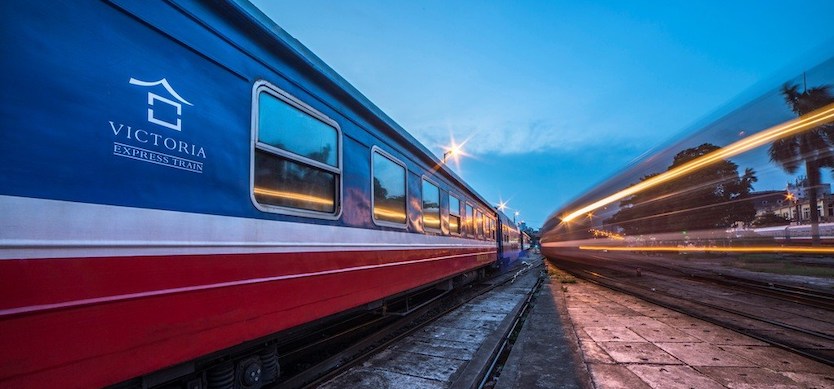 It's undeniable that a train vacation through the majestic mountains and mysterious jungles is very fascinating and safe.
However, it may be confusing sometimes, especially for beginners who first come to Sapa, Lao Cai province. Also, after getting to Lao Cai train station, you have to move to the town center since the distance between them is 35 kilometers.
Hence, in this article, we'll provide you the fullest guidelines, from how to choose the proper seats, buy train tickets, departure time, etc. to the ways to get to your accommodation in Sapa.
Types of tickets
Soft seat
The price for soft seats of the Hanoi - Lao Cai train is VND 155,000, and the Lao Cai - Hanoi train is VND 150,000.
Sleeper
Travelers buying sleeper tickets can sleep comfortably. The sleeper carriages including 2 types of 4 beds and 6 beds.
If you go to Sapa with the family or a team, you can purchase for the whole room for convenience.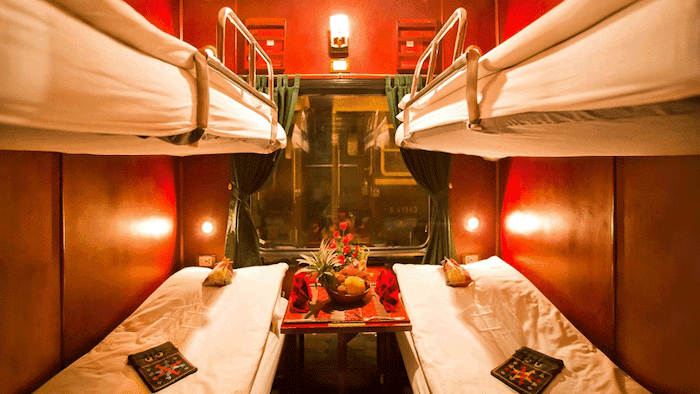 The sleeper carriages on Sapa trains
Sleeping carriages for tourists
In my opinion, if you have economic conditions, Sapa train tickets in the "tourist carriages" is also very convenient. They are available on the night train SP3, departing at 9.00-10.00 pm and arriving at 5.00-6.00 am the next morning.
This carriage has 6 cabins, of which each one has 4 beds which are spacious and luxuriously like the 4-star hotel rooms.
Sapa tourist carriages share a train section with the two types of seat and sleeper carriages. That is, the travel agencies bought all these train carriages, invested in comfortable furniture and design, from the bed, air-conditioning to water, table, storage space, and the external toilet.
Ticket prices for tourist are around VND 650,000-750,000/guest.
How to buy train tickets
Tourists can buy Sapa train tickets directly at Hanoi railway station gate on Tran Quy Cap street. To buy soft sleeper tickets, you must come to the station 1-2 weeks and even a month before the trip.
Guests can also buy train tickets online on websites or by calling the tourism agencies, they will take tickets to your place, thus saving more time.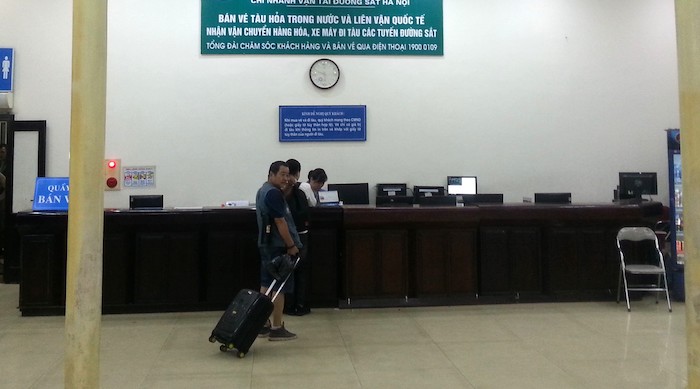 Guests can buy train tickets directly in the station
Visitors go directly to the website of the Vietnam Railways https://dsvn.vn or other online ticketing sites. Some sites have detailed online counselors, which will help travelers when buying tickets.
For the sleeping carriages for travelers, this train ticket is not sold at the station, so you have to contact the travel agencies of Orient Express, King Express, Fansipan Express, and Sapaly Express, etc.
Note: You need to buy a train ticket to Sapa about 1 month in advance if you plan to go in peak times such as weekends, April 30, May 1, September 2, New Year's Day, etc. If you go on regular days, you just need to book tickets 2-3 days or 1 week before the journey.
How to check in
To get on the train, you must keep your tickets and ID papers safe. After checking those items, the inspectors will let you pass the gate and guide you the way to your train. Also, you can see the guidelines hung on the ceiling.
With online tickets, after getting to the train station, you can either show the ticket code (which the seller sent to your email) to the inspectors or print them from the machines inside the waiting room.
Note: You should keep your tickets until arriving at the destination because the train staff will check out again.
What you'll experience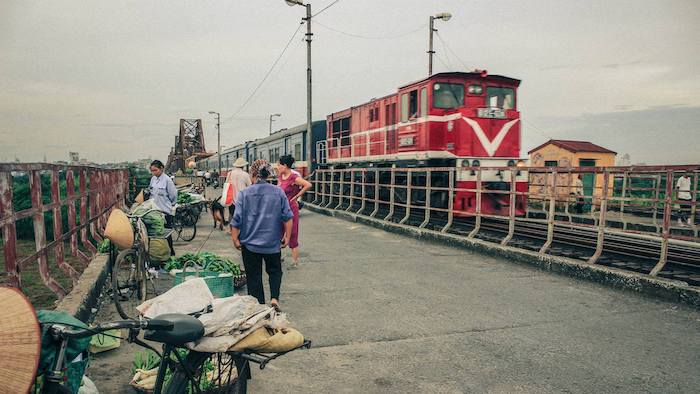 Traveling by train, tourists can see the attractive view along the way
Traveling by train, especially to Sapa, will bring you an unforgettable time. The night seems so short that you can comfortably sleep on a soft bed, or spend time chatting, sharing music with your friends.
Moreover, the Sapa night train also offers travelers a service of night meals, which include porridge, rice, instant noodles, snacks, water, coffee, and beverages, etc. Hence, you won't have to worry about food on the train.
If you visit Sapa in spring, when the train arrives in Lao Cai, you will have a chance to admire the natural scenery in the early morning mist through the glass window. If lucky, you can catch the sunrise here.
How to transfer from Lao Cai station to Sapa
Trains will arrive at Lao Cai station, so if you want to go to Sapa, you need to take other means such as buses, cars, and motorbike taxies. There is one bus trip every 15-20 minutes, and the fare is about VND 30,000-50,000. Visitors can stand right in front of Lao Cai station to catch a bus to Sapa.
Hope that with our detailed guidelines of how to go Sapa by train, you will have the most relaxing experience with friends and family. For further information, don't hesitate to let us know. If you find the article useful for you, please like and share it with others. Thank you.